Breaking Tradition on Valentines Day!
Once a year, on the 14th of February, we are treated to a very special day – a day full of romance, red roses, hearts, and the opportunity to express our undying love to our partners… BUT… there's nothing like breaking tradition to add a bit of surprise and delight to your relationship! So to nudge you in the right direction, and get you thinking "out of the box", we have put together this list of unique Valentines Day ideas to inspire you and awaken the romantic in you.
If you don't like any of these ideas, that's perfectly fine, but hopefully they will at least inspire you to conjure up your own creative Valentines Day gift. We just want you to have a really special Valentines Day this year… So here goes…
#1  Propose to her on the London Eye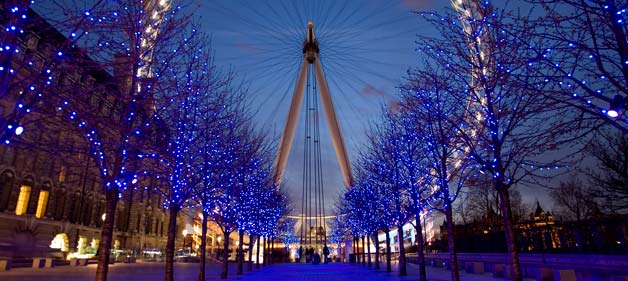 Photograph by User:Diliff
Lift her right off her feet by popping the big question while gazing across London on the largest observation wheel in the world. To ensure the experience is truly special, hire a private pod with Champagne and truffles. Friends of ours actually did this recently, and well, what can we say – it was a HUGE success…
If London is out of your reach, choose a place that both you and your partner love.  Perhaps where you had your first date or kiss, or even the spot where you both like to enjoy your favourite sunset.
Florist Chronicles recommends: The London Eye
#2  Romantic Hot Air Balloon Trip

.
If you are looking for a romantic, yet thrilling way to spend Valentine's Day, I can wholeheartedly recommend hot air ballooning. Words cannot describe the feeling of gently lifting off the ground in complete silence, except for the occasional burst of flame from the burner. If you can afford to do so, take the romantic package for two and make sure you have Champagne and your partner's favourite treats on board. While not the cheapest way to spend Valentine's Day, this one is a guaranteed winner if neither of you has done this before.
Florist Chronicles recommends: Hot Air Ballooning
#3  Give Her a Real Bear

.
If you or your partner have a soft spot for endangered animals, and you want to make a difference, while at the same time being different, you can adopt an endangered animal such as a Panda or a Polar Bear. You can of course adopt other endangered animals, but I think you get why the bear might be most appropriate in this case…
 What better way to break away from the predictable teddy bear gift, while still doing something positive for our fragile planet at the same time?
Florist Chronicles recommends: Adopt a Polar Bear
#4  Bouquet of Flowers

.
Well, we wouldn't be a very good florist website if we didn't include flowers in this list somewhere, so while not the most original or unique Valentines Day gift, it still has the potential to bring plenty of joy and appreciation. Besides, there are many ways to be creative and different when giving flowers. Instead of just getting her a bouquet of red roses, you could buy or make up a special Valentines arrangement consisting of red roses, a cute teddy bear, a heart shaped balloon and chocolates. Perhaps even add a bottle of Champagne so you can celebrate. If you can't think of anything creative yourself, ask your florist to help you.
Tip:
Red roses and red flowers in general are very expensive around Valentines Day, so if your budget is tight, consider buying her other flowers such as Lilies, Carnations or Gerbera Daisies instead. You could say you were just trying to be different…
Florist Chronicles recommends: Valentines Day Flowers
#5  Horse Riding on the Beach

.
Getting back to the romantic side of things, horse riding on the beach at sunset is a sure-fire way to win her heart, while enjoying an exciting outdoor adventure.  You could make the experience even more special by incorporating it with a well thought out picnic, provided you can get the operator to accommodate your special wishes. You could plan it so that the two of you are sipping Champagne on a picnic blanket watching the sun set… Nuf said…
Florist Chronicles recommends: Horse Riding on the Beach
#6  Cookie Jar or Heart Shaped Balloons with Messages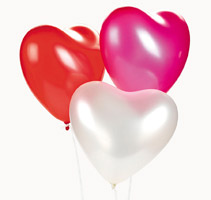 If you are on a tight budget and you can't splash out on expensive gifts, no problem, try this… Fill a cookie jar with a selection of your most secret desires, little love notes or gift coupons. Alternatively, you can put your messages or coupons together with an assortment of love candies inside heart shaped balloons… Then blow the balloons up and tie them together with a ribbon. Make the love notes meaningful and special by telling your partner how much they mean to you and how you feel about them. Use gift coupons as a fun, interactive way to make each other's dreams and fantasies come true. Your gift coupons could contain special surprises like a sensual full body massage, a romantic candlelit bubble bath, kisses from head to toe, a meal at your favourite restaurant etc. You can take turns plucking a coupon out of the jar or popping a balloon, and then fulfilling what the coupon says…
#7  Romantic Weekend Away at Oribi Gorge

.
Definitely not for the faint hearted, but if you are looking for a more adventurous way to spend Valentine's Day, and want to give the gift of exhilarating experience, take your partner on a romantic weekend to Oribi Gorge near Port Shepstone in South Africa. There are a number of exciting adventures on offer, like a zip-line, abseiling, white water rafting, horse riding and hiking / MTB trails.
But the ultimate prize is to conquer the highest gorge swing in the world! In the words of the operator themselves, you will hurl yourself (or simply step) off the edge of a waterfall to swing into the gaping depths of the gorge – 165m (55 Storeys). Unbelievable! And yes, I can vouch for that, having done this exact swing on Valentine's Day two years ago.  By doing this swing, you will be giving your partner an experience they will never forget, with a feeling of total euphoria and accomplishment that will linger for a long time. But a word of caution…be very sure that your partner will be up for the challenge.  Naturally anyone, no matter how brave, will be nervous to do something like this, but do not expect your partner to follow through with it. Be ready with a fall back plan such as horse riding, hiking or mountain biking.
Tip
Pay a few bucks extra and have a video made of the jump including the before and after moments. This way you guys will be able to show off to friends and family, and it makes for a great memento.
Florist Chronicles recommends: Oribi Gorge Swing
#8  Bloukrans Bungee Jump
Photograph courtesy of Mama's Minutia
If the highest gorge swing in the world isn't enough to get the adrenalin pumping through your veins, and you both enjoy living life on the edge (or should I say off the edge), then why not try the highest bungee jump in the world? At 216m, in one of the most scenic parts of South Africa, the garden route, the king of all bungee jumps will surely not disappoint. And to top it off, you will either be staying in Plettenberg Bay or Knysna, both of which can make for a very romantic weekend.
Florist Chronicles recommends: Bloukrans Bungee Jump
#9  Romantic Dinner at Home

Photograph by Kim Thunder
If your budget restricts you from going out to a fancy restaurant, you could treat your partner to a romantic candlelit dinner for two at home. You should both dress to the nines, taking great care in your appearance. Then instead of going out to an expensive restaurant, create a romantic table setting with candles and cook a fabulous meal. Start or finish the evening off with a candlelit bath, soothing music and Champagne. You can even offer your partner a sensual massage afterwards to really make them feel special.
#10  Winter Holiday in the Snow

Photograph by Kim Thunder
If you live near the mountains in a winter region or you can afford an overseas trip, then a snowed in weekend in a log cabin, cuddling in front of a wood fireplace, is the perfect way to kindle the romance in your relationship. Skiing, snowboarding or tobogganing during the day time will add an element of excitement and fun to your already perfectly romantic holiday.
Florist Chronicles recommends: Winter Holiday
#11  Day of Shopping
Every girl loves to shop, and most guys hate it, so a nice way to treat your girlfriend or wife would be to indulge her with a full day's shopping. Go with her and let her try on clothes to her heart's content. Have her model them for you and pick out the perfect evening ensemble. Then take her out on the town so she can show off her new outfit and feel great about herself.
#12  Gift Basket with her Favourite Treats
Another nice idea that won't cost you an arm and a leg, but will demonstrate how in sync you are with your partners tastes, is to buy or make her a gourmet gift basket containing all her favourite treats and snacks. Top it off with a card containing a beautifully handwritten message and perhaps even a lovely bouquet of flowers.
Florist Chronicles recommends: Gift Baskets
#13  Wine Tasting

.
If your partner has an appreciation for the finer things in life, such as good wine, then wine tasting along the wine route would be a nice way to spend Valentines Day together. You get to walk through beautiful vineyards, visit gorgeous colonial farm houses, and drink and be merry together. What more could one ask for?
Tip:
Don't drive yourselves. Instead, plan ahead and arrange alternative transport. This way you can both let your hair down together with no worries whatsoever…
Florist Chronicles recommends: The Wine Route
#14  Day at a Luxury Spa for Two

.
Our list of great Valentines Day ideas would never be complete without listing one of the most relaxing and indulgent ways of spending Valentines Day together. Instead of just giving your partner a gift certificate to go to the spa alone though, make sure you book a half day or full day package for both of you. This way you get to be pampered and spoiled in each other's company. Most spas will have special Valentines Day pamper packages, which should ensure you get a touch of romance thrown in, but make sure you book well in advance, as demand will be high.
Florist Chronicles recommends: Mangwanani African Spa
.
Well there you have it… We hope you enjoyed this article, and that you found one or two gems to try out this Valentines Day. Remember, it isn't about the size of the gift or how expensive it is. The most valuable gift you can give someone in this fast paced world we live in is the gift of time. Be creative and do something thoughtful that you normally wouldn't take the time to do, and make sure that whatever you choose to do, you do it together as a couple.
THINK OUTSIDE THE BOX!
Hey, we'd love to hear about your own creative ideas, so please share them with us in the comments box below, or come back after Valentines Day and tell us what you ended up doing and how it went.
PS: If you liked this article, please help us spread the word by sharing it with the world using the share icons below. And if you want to read more articles like this one, please subscribe to our website by clicking the link below. We appreciate your support.
Related posts:
20 Comments to "14 Great Valentines Day Ideas"