Make Your Mom Feel Special this Mother's Day!
Moms don't expect much from us, yet they are always ready to give us the world, and have likely been doing this for most of our lives. Well Mothers Day, which falls on the second Sunday of May each year, is the perfect opportunity to treat your mother to something very special to show her just how much she is appreciated.
This year Mother's Day falls on the 13th of May and to help get your creative juices flowing, we have put together a list of great Mothers Day gift ideas which we hope will inspire you on your quest to spoil your mom.
#1  Send Her Flowers


.
A classic Mothers Day gift is the gift of flowers. You can't go wrong by sending her favourite flowers whether roses, carnations or lilies in a beautifully arranged flower basket, vase or terracotta pot, especially if you can't be with her on this special day. Here are some excellent flower ideas: Stylish Ideas for Mother's Day Flowers.
Florist Chronicles recommends: Mothers Day Flowers
#2  For the Creative Mom


.
If your mother enjoys arts and crafts like beading, card making and scrapbooking, show her you're interested by joining her for a class or take her shopping for beads, special paper and scrapbooking materials. Spending quality time together doing something she loves will mean the world to her.
#3  Picnic in the Park

-
Plan a well organised picnic in the park or botanical gardens. Pack her favourite food and snacks. She will love the fresh air and time she gets to spend with you. Alternatively, take her out to her favourite restaurant.
Florist Chronicles recommends: Picnic Menu Ideas
#5  Mother's Day Weekend Away
If you live in another town or city, buy her an aeroplane ticket to visit you, or surprise her by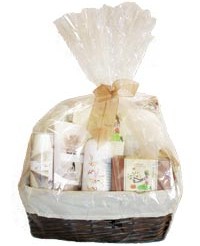 organizing for you and all your brothers and sisters to spend Mother's Day weekend with her.
Florist Chronicles recommends: Student Flights
#4  Pamper Hamper or Gift Set
Buy her a gorgeous pamper gift hamper with luscious, aromatic, soothing bath products to enable her to relax and unwind.
Florist Chronicles recommends: Mothers Day Gift Hampers
#6  Midlands Meander

Spoil your mother with a trip through the Midlands meander if you live in Durban or near Pietermaritzburg in South Africa. Stop at the little stalls along the way, and be sure to visit the Howick Waterfall and take her somewhere for lunch, tea, cakes or scones etc.
Florist Chronicles recommends: Midlands Meander
#7  Make a Scrapbook or Photo Album

-
Collect recent pictures from all your moms' children and grandchildren and compile a lovely photo album or scrapbook with all the pictures and any other tit bits you can put together.
Florist Chronicles recommends: Scrapbooking Ideas
#8  A Mother's Day at the Spa

-
A lovely way to spoil your mother is to treat her to a day of pampering at the Spa. To make it even more meaningful, clean her house or give her bedroom a make-over, buy new linen, bedside tables, lamps, add nice photo frames with pictures of all her children or hang her favourite art on the wall while she is away.
Florist Chronicles recommends: Mangwanani African Spa
#9  Mothers Day Cruise

–
If you can afford it, and want to treat your mother to the holiday of a lifetime, book her on a luxury cruise to an exotic destination. Many tour operators put great Mothers Day cruise packages together, so do a search on the internet for Mothers Day Specials in your area. If you are in South Africa, we definitely recommend a cruise on the MSC Melody from Durban with stopovers in Madagascar, Reunion, Mauritius and then back to Durban. Bookings are now open for the 2011/12 season and you can grab a special 40% early booking discount!
Florist Chronicles recommends: MSC Melody
#10  Give the Gift of Time
Finally, one of the most meaningful gifts you can give your mother is the gift of time. Just simply do something with your mom that you never have the time to do or have been avoiding because it doesn't interest you or seems like too much effort. Life is short; we must appreciate every opportunity we get to spend with the people we love.

-
Well we hope you enjoyed this article, and that we were able to inspire you with these ideas for Mothers Day. Just remember, the perfect Mothers Day gift that will mean the most to your mom probably isn't the most expensive or elaborate one. Think along the lines of doing something that you can't or don't normally do for her or with her. Not only will you be spending precious quality time with her, but you will also be creating memories that will last forever…
As we always say, "THINK OUTSIDE THE BOX!"
Hey, we'd love to hear your own Mothers Day ideas, so please share them with us in the comments box below, or come back after Mothers Day and tell us what you ended up doing. If you are a Mom, what would the perfect Mothers Day be for you?
PS: If you enjoyed this article, help spread the word by clicking the "Like", "Tweet", "+1" buttons or sharing it using the share icons below. Want to read more articles like this? Then Subscribe, and get our articles directly to your inbox or RSS reader.
Related posts:
10 Comments to "Mothers Day Gift Ideas: 10 Great Ways to Spoil Her"