How to make your Flowers Last Longer
There are few things in this world more delightful and pleasing to the soul than a beautiful bouquet of fresh cut flowers. Their vibrant colours and often unique character will brighten up any room or office space. So it goes without saying that you would want your lovely flowers to last as long as possible, which is why we've put this easy to follow list of flower care tips together for you to get your flowers off to a running start and keep them blooming for longer.
What to Look for When Selecting Fresh Cut Flowers
Make sure the flowers look clean and healthy.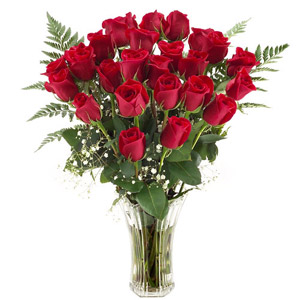 When selecting flowers, look for flowers with upright, firm petals and buds beginning to open. Yellow, spotted or drooping leaves are signs of age.
Avoid flowers with broken stems or drooping buds.
The flower stems should be green and smooth, and not slimy.
The water should smell fresh.
More tips for choosing fresh flowers…
Putting them into the Vase
Keep your cut flowers cool, until you can get them into water.
Cut the stems about two to three centimetres from the end while they are under water (this is to avoid air getting into the water-conducting tissues, which blocks the cells).
Make sure your vase and cutting tools are clean.
Remove any leaves that will be below the water surface.
Use the packet of flower food or preservative that came with your flowers (if you don't have any, we will show you how to make your own at the end of this article).
Bonus Tip
Place your freshly cut flower stems in warm water (roughly 40 degrees Celsius) and the preservative to ensure maximum water uptake. This process is called hardening.
Caring for Your Cut Flowers
Keep your cut flowers out of direct sunlight and drafts.
Keep them away from fresh produce. Fruit such as apples produce ethylene gas, a hormone that causes senescence, or aging in Cut Flowers.
Change the water frequently (Every other day).
Cut the stems as described above, each time you change the water.
Good Choices for Long Lasting Cut Flowers
Alstroemerias (6-14 days)
A very popular flower, even though most people don't know them by name. However they are sensitive to fluoride in water and ethylene gas. Keep them away from fresh produce.
Lilies (7-14 days)
Choose bunches with a few slightly opened lower buds. Remove the anthers to prevent allergies and pollen from coming in contact with your clothing and staining them.
Delphiniums (7-14 days)
You can't beat Delphiniums for shades of blue and purple. Like Alstroemeria, these are sensitive to ethylene gas.
Carnations (7-14 days)
Carnations are extremely dependable and come in many varieties and colours.
Roses (6-12 days)
A classic, and with over 20,000 varieties, they never get boring.
Sunflowers (6-12 days)
Generally available in late summer. Sunflowers can be top heavy, so use a sturdy vase that can support them.
Make your own Flower Preservative
If you don't have a commercial flower preservative, making your own mix at home can be as effective as the commercial preservatives and it's easy to make.
1 teaspoon sugar
1 teaspoon household bleach
2 teaspoons lemon or lime juice
1 litre of lukewarm water
OR
3 pinches (0.3g) of citric acid
Well, we hope these tips have been helpful and that you will now be able to enjoy the beauty of your flowers for that much longer…
If you have questions about caring for your flowers, or you have some tricks of your own that have worked for you, please share them with us in the comments section below.
Related posts:
4 Comments to "Flower Care Tips and Tricks"